Of Works and Words. Matthew Hawtin.
Lewis Elton Gallery
University of Surrey
Guildford
Surrey
GU2 7XH
Tel: +44 (0)1483 68 9167
Exhibition runs from: February 5 - 21
Opening reception: Feb. 4 from 6-8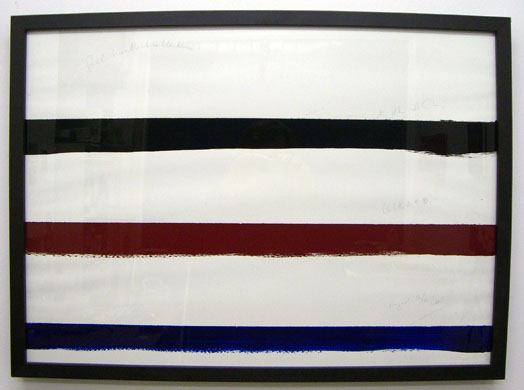 This new series is a side step from my usual work. It is an investigation into my own art practice and an exploration of my creative process. When I started this new series I also started a studio diary and this has become a written record of my thoughts, processes, ideas and wonderings while making the work. In the beginning all I wanted was to get my hands dirty again, to make simple work quickly through a reaction to the materials at hand. There were a few parameters I put on myself to progress this series; use only found materials/objects, use only the supplies that were currently in the studio and try to complete work in a single studio visit. For the most part I have kept within this framework. At this time I was also interested in the notion of sustainability within art and my own practice, so these parameters helped guide me into thinking critically about my processes as an artist. I had no set definitions of style but was looking for an aesthetic freedom outside my usual visual vocabulary. The idea was to be able to do anything and try anything within the given parameters.
During this series I moved away from the city and had to change studios, thus I had to downsize my space. This in itself has been a challenging adjustment and is an experience that is documented within the diary and which has had a greater influence on the work than I had suspected. In most cases I was working with the materials, doing something and seeing where it would take me. There was little planning with this series and I found each piece came together with different amounts of effort.
The importance of this series is in the process, the experimentation and the written word. Some pieces are more successful than others, and some should be viewed as sketches or maquettes that may be further investigated in the future. The works have to been seen for what they are, and through what the words convey, as part of an investigation into the creative process. As the series progressed though, I found my usual pared-down aesthetic emerge in specific pieces, like an aspect of ones own personality that is ever present. It is these pieces, in my opinion, which proved to be the most successful and inspiring, showing that less is more and exhibiting the sometimes effortlessness of creativity even in times of experimentation and doubt. I invite viewers to share in this experience through looking, reading and listening.
For more information about the artwork, sales or commissions, please contact mh@mhawtin.com
A copy of the full diary complete with images is also available for purchase.
Matthew would like to thank the following people for their support with this exhibition: JoAnne, Mum, Dad, Rich, Jo and Patricia.
Special thanks to Jonathan Coe, Tosh Cooey & Bryan McDade for their internet support and website wizardry.
Inquiries about this flash website please contact Jonathan Coe - info@joncoe.com